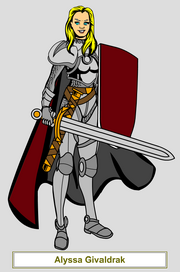 Alyssa is a passionate and optimistic young cleric in the service of Iomedae, She was orphaned at birth and raised in the way of the sword and the divine in a local chapter of Iomedae. At the age of 21 she was married off to the son of Drake Givaldrak, Drun Givaldrak.
At first she was wary of the arrangement, particularly when she discovered the green glowing forge in the basement of the Givaldrak home. However, the priests of her chapter had assured her that there was no taint of evil on either the house or the Givaldraks. Over time she grew to love Drun and they have formed a special bond.
After learning of Drun's quest to complete his sword, she demanded to accompany him. While nimble and quick, her husband is not as strong and durable as most fighter types. Alyssa knows he will need her by his side in order to succeed. And hopefully once he has completed his quest he will become a champion of justice, good, and valor in the service of Iomedae.
Alyssa's Statistics

STR

12

DEX

10

CON

12

INT

10

WIS

19

CHA

14
x.
Image created with: http://www.ugo.com/channels/comics/heromachine2/heroMachine2.asp